POPPY at Omeara, London: Monday 19th August, 2019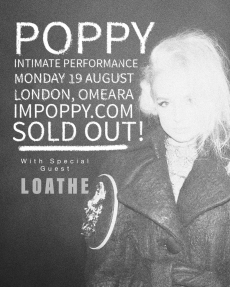 Arriving at the venue, there was already a long queue of "in the knows", and you could sense an air of expectation. We all knew that, for the UK, this was the beginning of something potentially HUGE!
The venue (which consists of the space under a pair of railway arches divided into the concert venue to the right and a bar to the left) has a capacity of just over 300, and the tickets sold out in under 2 days. The bar area is a nice comfortable, with friendly bar staff.
As you enter the hall, there is sound control area to your left (Mixer, Lighting, etc), and beyond that, in the LH corner, a small bar. It is recommended that you simply go through to the main bar for drinks, though, as you'll have a far greater choice!
Going down a couple of steps, you're on the main floor area: this enables people at the back to get a good view of the stage, especially as the raised rear area goes round both side slightly, too.
The support act, scouse Heavy-Metallists LOATHE, warmed the crowd up with a set full of energy and anger.
I'm glad Liverpool won the Champions League and Super Cup penalty shoot-out last Wednesday,: if this is what happy, jubilant scousers are like, imagine if they had lost...!?
Poppy is well-known online and in her native USA, but (until Saturday @ Reading/Leeds, that is!) largely unknown in the UK.
Poppy and her "creator", Titanic Sinclair, have been gradually honing her image and sound over the past few years, morphing through various phases: Poppy is now a perfect fusion of the real and the surreal.
Nobody REALLY knew what to expect from Poppy when the lights went down: what visuals would we be treated to..fancy costumes? Dancers?
No...Poppy arrived wearing a striped jacket with accessories, and a pair of knee-high boots.
She was flanked by Titanic Sinclair on bass and (I'm assuming?) Aaron Deming on guitar.
I say "assuming", as both had their faced completely blacked out!
There was also a drummer, and the obligatory backing track.
(I'm told that Sam Palombo is their drummer, and that both he and Aaron are from "Blame Candy".)
No latex in sight! Actually, she just looked like a human being having a great time, her waist-length blonde hair fanning out as she span round during the heavier sections of the songs.
She came across tonight like a human being with occasional android tendencies, rather than a synthetic creation. She was engaging and captivating, both visually and sonically..the perfect package.
She has great charisma.....engaging, yet still somehow surreal at the same time...?
This was no carefully-choreographed Kylie-esque affair: Poppy and the band simply rocked the place!
This show was obviously warming up for Reading/Leeds, and you could see that the set-list was tailored for a more rock / metal orientated audience than anything Lady Gaga would have done back in the day.
Perhaps this is the "Billie Eilish" effect? Eilish was an overnight sensation back in March with the release of her album: it looks like Poppy is being targeted at the same, or a very similar audience.
People I spoke to in the audience were unanimously intrigued by Poppy: we're all trying to work her out...which keeps things interesting.
Several years ago, her songs were obviously K-Pop-inspired, both sonically and visually: With Mr Sinclair, Poppy has done a great job with the visual presentation, creating what is now a perfect fusion of visual and sonic appeal.
The "sound" is a combination of pop and metal, often within the same song! This keeps things interesting, as you often don't know if the song is finishing, or merely moving into another phase..!
She played some new material, alongside the favourites: highlights for me were "Time Is Up", "X", "Scary Mask" and "My Microphone" ("Oh..there it is!!") lol!
She also did a good cover of Gary Numan's "Metal".
The set was around an hour: short, but very sweet...and it left everyone wanting more.
Tonight, this exclusive crowd at Omeara witnessed the dawning of something big...a tidal wave is about to break on the UK, starting at Reading / Leeds this weekend.
All that is missing is that breakthrough hit single: surely that's just round the corner now.
Whether it is one of the new songs, or a remix of one of her catchy back-catalogue tracks remains to be seen...
You know what they say about buses? You wait for ages for one, and then two turn up within a minute of each other..!?
This year, we've already had Billie Eilish.
Now the second bus is rolling in.
You can feel it.....
Greg Nouveau (Nouveau Sounds)